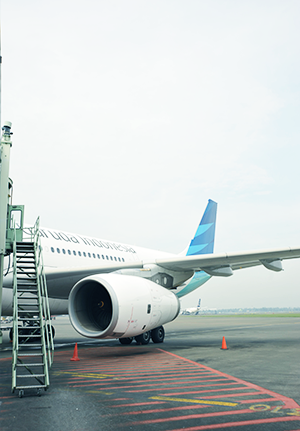 Vision
To become the world class hospitality corporation with Indonesian authenticity in 2020.
Mission
To act as a holding company in managing Food, Hotels, Travel Transportation business, and Logistics with high performance standards through qualified human capital and processes to deliver optimum values to all stakeholders.
1
Brand
Awareness, Consistency, Equity
2
Human Capital
Corporate Culture, Right Quality, & Right Quality
3
ICT
Reliability, Availability, Efficiency, Agility, Integrity
4
Service
Concept, Quality, Indonesian authenticity
5
Cost Discipline
Efficient & Effective
6
Source of Fund
Proper & Accountable
7
Synergy
Optimizing internal potential within the group
8
B2C
Increase contribution
9
Business Portfolio
Equilibration
Core Values
In running its business activities, Aerowisata applies standards of ethics complied with the corporate values Integrity, Professional, Synergy and Care for Environment.
Integrity – Consistent in mind, words, and actions by upholding honesty, openness, ethics, and determination under any condition.
Professional – Working whole-heartedly in a smart and discipline way that is oriented on prime service and customer satisfaction to reach maximum results with optimal effort according to authority, responsibility, rules, exemplary, norm, and work ethics.
Synergy - Able to build cooperation to add value with appreciation, trust, openness, and mutual profitting.
Care for Environtment – Building positive awareness of the importance of moral and social responsibility to build a healthy, safe, and comfortable environment for the company's continuity and the people's quality of life.