October 31, 2018, Aerowisata and   Association of Retired Employees, Persatuan Karyawan Purnabakti Garuda Indonesia (Pakarti) signed a Memorandum of Understanding (MoU) on Cooperation for Hotels and Transportation Business Lines. Located at Gedung Pewayangan Taman Mini Indonesia Indah, the MoU was signed by Mr Bambang Sujatmiko as Director of Aerowisata and Mr Sidi Hersanto as Chairperson of Pakarti.
This signed MoU contains an agreement between the two parties in the Aerowisata group's products and services which are Hotels and Transportation. With this agreement, Pakarti members will get special prices when staying at Aerowisata hotels and offered special prices for tour bus rentals.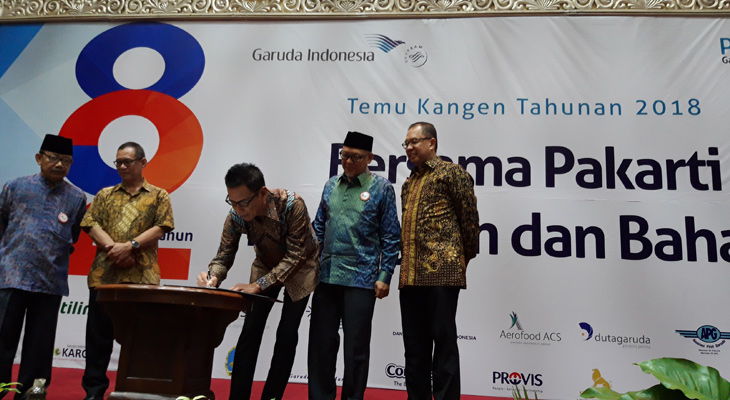 The signing was witnessed by the Directors of Garuda Indonesia as Pembina Pakarti, Mr Nicodemus P Lampe as Director of Services and Mr Pikri Ilham as Director of Commerce. Pakarti members who came from various cities in Indonesia also witnessed this special event since they were also celebrating a yearly reunion (Rakertan) called " Bersama Pakarti Tersenyum dan Bahagia ".
The reunion among Pakarti member was enlivened with bazaar by Aerowisata group, such as Hotels, Travels which offer various tour packages, umrah and hajj also various products offered by Aerofood, Sales on Board products juices and sweet pastry products.
The event was successfully gathered Pakarti's member, filled with happiness synergy as the unity of the Garuda Indonesia family.